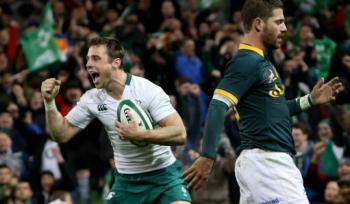 This item is primarily a review of Ireland's fabulous triumph against South Africa, but permit me to provide my two pence worth about the opening results of the other home nations in the autumn internationals.
First of all, it is good to see Scotland produce an encouraging performance against Argentina. Not only did the Scots put lots of points on the board, but there were a few tries too. The trouble with Scotland is that the least few years have been a case of one step forward, two steps back, or at best one step forward, and one step back. Scotland really need to kick on from this marvellous result. One excellent win per year is insufficient. The Scots need to start stringing a few victories together and aim for a minimum of two wins in the forthcoming Six Nations. The triumph against Argentina is a great foundation, but unless foundations are built upon, they become obsolete.
Secondly, I really don't think that England should beat themselves up about their narrow defeat at home to the All Blacks. England have very high expectations of themselves, which is doomed to lead to disappointment. Stuart Lancaster is a surprisingly astute and capable coach and he has a team with a lot of potential, but this team are really only about one year old. The likes of Mike Brown and Jonny May, amongst others, are still fresh-faced internationals. One needs to remember that the champions of 2003 were effectively a culmination of about half a dozen years together. The likes of Dallaglio, Back, Leonard, Wilkinson, Dawson, and Johnson, to name but six, had been involved in the England set-up since the late 1990s. If it takes Clive Woodward several years to construct a world-beating team, then Stuart Lancaster will need an equivalent timescale. Rome wasn't built in a day. England may well excel in the near future, but the next World Cup is perhaps coming one or two years too soon for the current, improving squad. Besides, England should take heart from losing narrowly to the mighty New Zealand. This is surely a good measure of where they are and infinitely more preferable to an uninspiring ten-points home win against the likes of Italy. Sometimes losing is better than winning, depending upon the quality of the opposition.
Last and by no means least, Wales yet again contrived to deliver another hard luck story against their nemesis, Australia. The clues are most definitely in the score. When you're posting 28 points in a test match, you should be winning. Wales's undoing against the men from Down Under is conceding too many kickable penalties and too many tries. This suggests that a lack of discipline and defensive quality is at fault. When you yield 33 points to the opposition, then you are having to score at least 34 to win. That is a huge ask. Going forward, Wales remain a dangerous handful, but when they don't have the ball, they are unable to cope quite so convincingly. Nevertheless, they weren't blown away by the Aussies, so there is no need for the panic button.
As for Ireland, well statistics can be misleading, and indeed Ireland's convincing score against South Africa is indeed a bit flattering, but nevertheless the hosts can derive much satisfaction with a remarkable triumph which emphatically proved that there is life after O'Driscoll. Furthermore, the hosts demonstrated their strength in depth and sheer strength of character by prevailing in spite of a depleted squad.
Time will tell whether or not Henshaw and Payne are the long-term answer to the tried and trusted D'Arcy and O'Driscoll axis, but one partnership which improves with every outing is the pairing of the outstanding Sexton with the equally impressive Murray. Each has had his share of critics, but while nobody doubts Jonny's position amongst the elite of international fly halves, it's Conor, his sidekick, who has also made rapid strides, particularly during and since the last Lions tour. If Murray and Sexton can remain injury-free for the next twelve months, then Ireland are going to be blessed with a couple of exceptional players in the pivotal half back department in the forthcoming Six Nations and World Cup tournaments. The decision-making, tactical kicking, defence, and general manoeuvring of the half backs is of huge importance, and fortunately Ireland now have two of the best in the business.
It's not that the South Africans were woeful – far from it. Instead their enterprise (which some might consider to be bordering on arrogance or at least strategical naïveté) was constantly repelled by a determined display of bloody-minded defence from the home team. In fact, Ireland's efforts amounted to one of the best demonstrations of clinical rugby, consisting of resolute defending, allied with the streetwise knack of converting your own chances. Ireland now have gone on to the level where every time that they advance into enemy territory, their incursion results in more points on the scoreboard. If the Oirish maintain this good habit and continue to excel at stout resistance, then the term 'dark horses' can plausibly be ascribed to their World Cup ambitions. While the next encounter against Georgia will primarily be an opportunity for the fringe players to pass their auditions, the meeting in two weeks time with Australia will prove to be an accurate indicator of whether the victory against South Africa was a freak result or a foundation for glory in 2015. It certainly should not be forgotten that the visitors were battle-hardened, having successfully locked horns with Argentina, Australia, and New Zealand in recent weeks. Ireland by contrast were expected to be rusty, but they well and truly exceeded expectations and even led 29-10 before conceding a late try which partially concealed South Africa's apparent humiliation.
As for Mr Sexton, even his goal-kicking clicked, presumably a consequence of a gent oozing with confidence. Suddenly the apprentice of recent years is now an accomplished pro whose general game merits favourable comparison alongside such luminaries as Campbell, Ward, and O'Gara.
If only Ireland had kept this performance for next year's World Cup, but with Joe Schmidt managing his troops impeccably well, such displays could conceivably become commonplace, regardless of who might be on the treatment table.