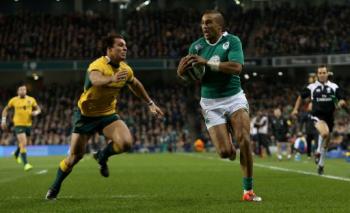 It might have been agonising viewing for Joe Schmidt, but the rest of Ireland were cock-a-hoop at the national team's latest triumph against a Southern Hemisphere giant. Australia were effectively mugged by an Irish team that was quick out of the traps and then had the presence of mind to shut up shop in the second half when the Wallabies huffed and puffed but could not blow the house down.
Basically the tussle had three phases. Firstly, the Oirish maintained their clinical tendencies by converting two scores in the first quarter which might have been the springboard for an annihilation. However, the Aussies are a proud bunch, and chastened by their early collapse, they promptly got off the ropes in this heavyweight clash and proceeded to land a few blows of their own as they scored three tries later in the first half. Suddenly the away team accelerated past the hosts from an arrears of seventeen-nil to a twenty-seventeen lead. Fortunately for the home contingent, Jonny Sexton equalised on the stroke of half time and his two second-half pressure kicks proved just sufficient to take his resolute team victoriously to the chequered flag.
This was another win which owed itself to bloody-minded defending and an astonishing ability to score seven points with each foray into opposing territory. Every rugby team in the world would struggle against a XV that contains such attributes. Ireland still have a host of players on the treatment table which only renders their November slam all the more remarkable. It is the first time since 2006 that the Irish have completed a clean sweep in the autumn series. These are good times indeed for Irish rugby. The men in green are well-placed to inflict much damage upon their neighbours in the forthcoming Six Nations tournament, and now that they are deservedly third in the IRB rankings, they can realistically aim for at least a semi-final place at next autumn's World Cup.