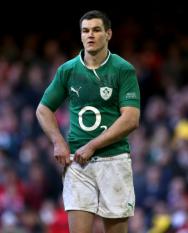 The Irish rugby anthem contains the defiant lyrics of "shoulder to shoulder, standing tall", and the men in green were required to do precisely that on Saturday evening as the hosts withstood a barrage from the French in the final quarter of their bruising encounter at the Aviva Stadium. In fact, the second half resistance closely mirrored a similarly heroic effort when Australia were in town back in late November. This fine win follows 24 hours after Ireland's women had been narrowly defeated by their French female counterparts ten points to five in their own Friday the thirteenth Six Nations skirmish.
Joe Schmidt's Ireland are proving to be masters of defence whilst under siege. This is a notable virtue in international rugby, especially if you are also equipped with two or three very competent goal kickers. However, sooner or later, the third ranked team in the world will have to move on to the next level of demonstrating their worth when they have possession. Against France and Italy, the European champions haven't quite clicked, but as long as they can adequately cope when they don't have the ball, then that will do for the time being. In the event, Ireland have now recorded an astonishing nine successive wins. This remarkable sequence will be sorely tested when England pitch their tent in Dublin on the first of March. In fact, John Bull is the last adversary to narrowly overcome the Irish so the latter should not be under any misapprehension about improving England's capabilities. At least captain Paul O'Connell can be relied upon to keep his team well grounded. Big Paul rarely gets too carried away with post-victory hysteria, and Saturday past was no exception. He conceded that his players need to be more accurate and not to allow themselves to be sucked into a prolonged defensive shift in the last quarter of a match.
France were very much the archetypal schizophrenic. For an hour they were a little too patient, one-dimensional, and cautious for their own good. However, when the deficit stretched to a perturbing twelve points, the French lion arose from its slumber to pummel Ireland in a ferocious final quarter of an hour. Armed with the flying wardrobe, Mathieu Bastareaud, who could be constantly relied upon to punch some holes in the opposition defences, les Bleus did their utmost to retrieve the situation. Perhaps if they had produced more adventure and flair earlier in the proceedings, they might have left Ireland with deux points. Nevertheless, in spite of the considerable efforts of the French front row replacements, the home team proved equal to the task. Henshaw tackled very well, while Ireland's courageous defence was typified by Jonny Sexton's bravery in the heat of battle. Not flinching from the onrushing Bastareaud, JS was in no mood to go missing in action. The French may have made pre-match noises about Jonny's unsuitability for this match, but he passed their 'medical examination' with flying colours. Not only was this supremely talented fly half awarded the man of the match, but even dear old Jerry Guscott was moved to nominate Mr Sexton as the player of the weekend.
Meanwhile, Pascal Pape has been rightfully cited for his naughty knee in the back of Jamie Heaslip, which won't have done wonders for the latter's kidneys. Pape only just merited the benefit of the doubt from referee Wayne Barnes. What I consider so foolish of the French lock is that professional rugby is now played out in front of a multitude of cameras, not to mention enterprising mobile telephone users, each seeking their very own scoop, so anyone who thinks that they can engage in a bit of mischievous skulduggery without being noticed is only deluding themselves. Gone are the good [or more accurately bad] days when all manner of off-the-ball incidents in rucks and scrums could go unseen and unpunished.
This triumph now means that France have failed to win one of their last four Six Nations encounters with Ireland. In fact the French have only won two of their last seven tussles in this tournament against the Irish. Gone are the bad old days of the late 'eighties and 1990s when Ireland consistently achieved nul points against the dastardly French.
Anyhow, it is time for the Irish warriors to catch their breath after this epic encounter. They've just got the small matter of an England visit rearing its foreboding head over the horizon. Whoever wins that arm wrestle will be very well placed to sweep the board in March.
SIX NATIONS TABLE:
England 4 points (+35)
IRELAND 4 points (+30)
France 2 points
Wales 2 points (-2)
Scotland 0 points (-10)
Italy 0 points (-53)