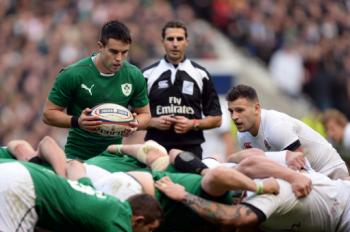 Ancient enemies
There appears to be little to choose 'on paper' between England and Ireland at present, and sure enough last year's encounter resulted in a narrow triumph for the English warriors. Assuming that this season's Six Nations tussle will be equally close, one wonders if England and Ireland could possibly produce their first drawn contest since the late 'sixties. Virtually every other Five Nations fixture has resulted in a draw at some stage during the 1970s, the 1980s, or the 1990s, but the love-hate relationship between the neighbours across the Irish Sea always resulted in a win for one of the two protagonists. Will 2015 prove to be any different? Will each team ever deliver equal points again when locked together? Time will tell. It always does!
Anyhow, all England home matches below were played at Twickenham, while all the Ireland-hosted contests underneath took place at Lansdowne Road. Only the first match was an uncompetitive outing. The remaining seven were part of the annual Five Nations shebang. In a nice act of parity, four matches were drawn in Dublin and the other four were drawn in south-west London, with all eight stalemates falling during the month of February!
6th of February 1882: IRELAND 0 goals England 0 goals
Both teams shared four tries, but the result was nil-nil because an unconverted try was not deemed as a goal. Ten players won their first caps in this skirmish.
12th of February 1910: England 0 IRELAND 0
One English and six Irish debutants played out a pointless bore draw. This was the only match that England failed to win in an otherwise successful campaign.
14th of February 1925: England 6 IRELAND 6
A brace of tries from Smallwood presented England with a 6-0 interval lead. However, the Irish replied with tries from Frank Hewitt and Henry Stephenson.
14th of February 1953: IRELAND 9 England 9
England led 3-0 at the halfway stage. However, a try from Mortell and two penalties from Henderson would lead to the only dropped point for England in 1953.
12th of February 1955: IRELAND 6 England 6
This was Ireland's only point of the campaign. The visitors had led 6-3 at the interval, thanks to tries from Jeff Butterfield and George Hastings.
9th of February 1963: IRELAND 0 England 0
Ireland ultimately denied England a grand slam in this no-score draw. Eamonn McGuire and Brian Marshall won their first caps for the hosts.
12th of February 1966: England 6 IRELAND 6
Debutant Dick Greenwood scored a first-half try to help England into a 6-3 half-time lead. This was the only point that England obtained in the 1966 tournament.
10th of February 1968: England 9 IRELAND 9
Tom Kiernan kicked three penalties for Ireland. Both teams were deadlocked 6-6 at the interval. England had already drawn 11-11 at home to Wales in January.