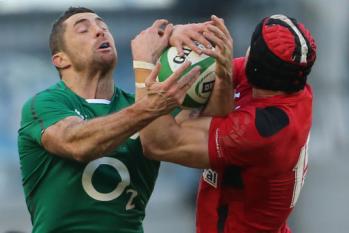 Here is a recalling of the twenty occasions when Ireland won away to Wales in a Home Nations/Five Nations/Six Nations outing. One of the matches, in 1999, was a trip to Wembley where Wales acted as temporary hosts, until such time as their Millennium Stadium was completed. Funnily enough, in that season, unpredictable Wales lost at home to Ireland, only to then finish by stopping a grand-slam chasing England! All matches before 2000 took place at the National Stadium, Cardiff, unless otherwise stated, while those after 2000 all took place at the Millennium Stadium, Cardiff.
2nd of February 2013: Wales 22 IRELAND 30
Early in the second half, Ireland led by 30 points to 3, thanks to tries for Zebo, Healy, and O'Driscoll. However, the hosts did fight back with three tries too.
21st of March 2009: Wales 15 IRELAND 17
Wales led 6-0 at the interval. Then, O'Driscoll and Bowe grabbed tries in quick succession. However, it took a late Ronan O'Gara drop goal to win the grand slam.
4th of February 2007: Wales 9 IRELAND 19
Stephen Jones's trio of first-half penalties were not enough, as Ireland thrice recorded a try, courtesy of Best and O'Driscoll, and then later on Ronan O'Gara too.
22nd of March 2003: Wales 24 IRELAND 25
Keith Gleeson obtained a try in each half, but it took a late Ronan O'Gara drop goal to foil Wales. The latter managed three converted tries of their own.
13th of October 2001: Wales 6 IRELAND 36
Fly half Stephen Jones kicked a penalty in each half, but Wales were demolished, with David Humphreys kicking nineteen points and his team scoring three tries.
20th of February 1999: Wales 23 IRELAND 29
David Humphreys and Neil Jenkins each converted two tries and kicked three penalties, but the decisive scores were two Humphreys drop goals.
1st of February 1997: Wales 25 IRELAND 26
Both teams shared six tries, with Wales's Ieuan Evans grabbing two. Wales fought back from a 20-10 interval deficit, but Ireland held on for a narrow triumph.
18th of March 1995: Wales 12 IRELAND 16
Neil Jenkins kicked two penalties in each half. However, they were insufficient. Brendan Mullin achieved the match's only try. Paul Burke also dropped a goal.
6th of March 1993: Wales 14 IRELAND 19
Debutant Eric Elwood kicked three penalties and converted Brian Robinson's first-half try. Ireland led 13-6 at the halfway stage. Ciaran Clarke also dropped a goal.
4th of February 1989: Wales 13 IRELAND 19
Mark Jones scored a second-half try for the hosts, while all Ireland's points came after the interval, including a try from Dean and a solo effort from Noel Mannion.
4th of April 1987: Wales 11 IRELAND 15
Two unconverted tries for Evans and Norster helped Wales to an 8-6 half-time lead. However, Ireland's two tries were both converted, and that was decisive.
16th of March 1985: Wales 9 IRELAND 21
The Ulster wingers Trevor Ringland [in the first half] and Keith Crossan [in the second half] both grabbed tries as enterprising Ireland won at a stroll.
11th of March 1967: Wales 0 IRELAND 3
A first-half, unconverted try from the winger Alan Duggan was the only score in this close contest at the National Stadium.
9th of March 1963: Wales 6 IRELAND 14
Both teams achieved a try and a drop goal, but the difference between them was provided by two penalties and a conversion from Munster's Tom Kiernan.
12th of March 1949: Wales 0 IRELAND 5; at Swansea
Jim McCarthy's try, which was converted by full back George Norton, was the only score that decided this tussle and ensured a triple crown for Ireland.
12th of March 1932: Wales 10 IRELAND 12
This match was deadlocked at three-three at the interval, before the visitors grabbed three tries in the second half. William Ross scored two of their tries.
10th of March 1928: Wales 10 IRELAND 13
Joxer Arigho helped himself to a pair of tries, while George Stephenson converted two of Ireland's three tries. Wales also managed to score two tries.
8th of March 1924: Wales 10 IRELAND 13
Frank and Tom Hewitt each obtained a try on their debut. Ireland led eight points to three at the interval. Both teams recorded a try in the second half.
18th of March 1899: Wales 0 IRELAND 3
The Irish achieved a rare triple crown, thanks to a first-half, unconverted try from their winger, Gerry Doran.
2nd of March 1889: Wales 0 goals IRELAND 0 goals; at Swansea
Debutants John Cotton and Alaster McDonnell both produced tries for the Irish, but neither was converted, so neither was a 'goal'. Wales were scoreless.