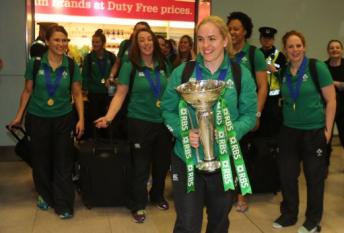 Champions!
[photograph courtesy of Empics, via http://rugbynetwork.net]
Not to be outdone by the back-to-back Six Nations winning heroics of their male compatriots, Ireland's women registered a unique double for Irish rugby union by clinching the women's Six Nations Championship the following afternoon, also in Scotland. Funnily enough, they virtually had to emulate the England men, by winning their final fixture by a margin of 25 points or more, but unlike John Bull, the Irish ladies more than accomplished their task, with lots to spare.
Step forth and take a bow, the following female heroines: Niamh Briggs; Hannah Tyrrell, Jenny Murphy, Jackie Shiels, Alison Miller; Nora Stapleton, Larissa Muldoon; Ruth O'Reilly, Gillian Bourke, Ailis Egan; Sophie Spence, Marie Louise Reilly; Paula Fitzpatrick, Claire Molloy, and Heather O'Brien, as well as the replacements, namely Sarah Mimnagh, Fiona Hayes, Fiona O'Brien, Orla Fitzsimons, Katie Norris, Tania Rosser, Sene Naoupu, and Aoife Doyle. A standing ovation is allocated to you all!
Here below is a reminder of their marvellous successes this year, as well as the final table, which collectively make for pretty reading, except for poor auld Scotland who got themselves whitewashed in both the men's and the women's tournaments. Robert The Bruce must be turning in his grave.
Round 1
Friday, 6 February: Italy 5-30 IRELAND
(Ireland try-scorers: Briggs, Fitzpatrick [2], O'Brien, Murphy)
Round 2
Friday, 13 February: IRELAND 5-10 France
(Ireland try-scorer: Molloy)
Round 3
Friday, 27 February: IRELAND 11-8 England
(Ireland try-scorer: Muldoon)
Round 4
Sunday, 15 March: Wales 0-20 IRELAND
(Ireland try-scorers: Fitzpatrick, Miller)
Round 5
Sunday, 22 March: Scotland 3-73 IRELAND
(Ireland try-scorers: Briggs, Molloy, O'Brien, Burke, Miller [3], Fitzpatrick, Spence, Rosser, Murphy]
FINAL STANDINGS:
IRELAND 8 points
France 8 points
Italy 6 points
England 4 points
Wales 4 points
Scotland 0 points