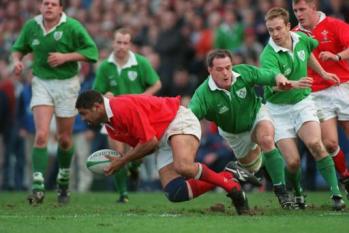 Since the inception of the Six Nations in 2000, the fortunes of Irish rugby have been on the up and up, coinciding with a so-called golden generation of talent, represented by such luminaries as Brian O'Driscoll, Ronan O'Gara, and big Paul O'Connell. However, given the recent successes of Ireland's first XV in 2009, 2014, and 2015, it is easy to forget just how barren the last decade of the previous century was for Ireland in the old Five Nations tournament. Not only did the men in green fail to beat France or Scotland once, but they could only muster a pair of giant-killing, back-to-back triumphs against England plus six wins against Welsh teams that were a shadow of their great predecessors from the 'seventies. Here follows Ireland's rather puny collection of eight wins from forty Five Nations outings [including only three at home from twenty attempts] in the apparently nervous 'nineties:
24th of March 1990: IRELAND 14 Wales 8
Terry Kingston, Denis McBride, and Brian Smith all scored tries, one of which was converted by Michael Kiernan. This was a wooden spoon play-off in all but name.
6th of March 1993: Wales 14 IRELAND 19
New fly half Eric Elwood kicked three penalties and converted Brian Robinson's try while Clarke landed a drop goal. Ieuan Evans achieved a try for the hosts.
20th of March 1993: IRELAND 17 England 3
Lock forward Mick Galwey scored a famous try for the home team as they upset the form book. Eric Elwood kicked a pair of penalties and a pair of drop goals.
19th of February 1994: England 12 IRELAND 13
The flying Simon Geoghegan dived over in the corner after a well-worked try. Elwood kicked the conversion and two penalties. England couldn't even manage one try.
18th of March 1995: Wales 12 IRELAND 16
The veteran centre Brendan Mullin achieved the match's only try. Fly half Paul Burke converted it and kicked two penalties and a drop goal in this basement battle.
2nd of March 1996: IRELAND 30 Wales 17
Ieuan Evans bagged a brace of converted tries, but the Irish recorded four of their own. Full back Simon Mason converted two of them and kicked two penalties.
1st of February 1997: Wales 25 IRELAND 26
Ireland outscored the hosts by three penalties to two, while both combatants shared six tries. Jonny Bell, Denis Hickie, and Eric Miller were the Irish try-scoring heroes.
20th of February 1999: Wales 23 IRELAND 29
Both teams registered two converted tries and kicked three penalties. The difference was ultimately two drop goals by the Ulster fly half David Humphreys.