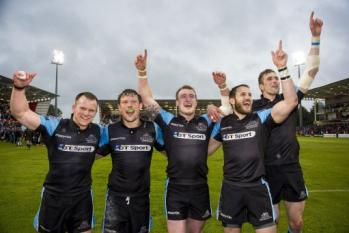 Depressingly, for the first time in five years, none of the Irish clubs was able to win either the European Cup or even the domestic league as Glasgow Warriors convincingly overpowered Munster to record the first-ever success for a Scottish team in the celtic league. Rather like the English FA Cup which kicked off one hour earlier, this final was also disappointingly one-sided, not that the Glaswegian contingent will be complaining! The Warriors richly deserved their emphatic triumph and won with much to spare, outscoring Munster by four converted tries to one.
I must confess to being bemused with the Pro12. Usually through the course of the season, the teams are required to field 'weakened' teams, denuded frequently of their best players on international duty. Now obviously this represents a commendable opportunity to blood new recruits, but it means that there is a distorted feel to a league where the first-choice XV rarely gets an outing. Nevertheless, Glasgow have dominated the Guinness Pro12 for much of the season, and it is fitting that the team that finished top of the league should then subsequently win the play-offs. Mind you, if a team that finishes top of the league each year then also wins the ensuing play-offs, it kind of renders play-offs obsolete.
Meanwhile back at the Kingspan Stadium in Belfast, the occasion was one of mixed fortunes for two lock forwards and elder statesmen who were making their last appearance for the clubs that they had played for with distinction, namely Alastair Kellock and Paul O'Connell. The latter would be the first to admit that his team were comprehensively outplayed by a Glasgow team which, if anything, took a leaf out of Joe Schmidt's Ireland book by defending so well and being absolutely lethal when they approached their opponents' try-line. The dynamic Stuart Hogg was one who caught the eye in that regard. The success for Glasgow ought to be a catalyst for a revival for the national team which in turn ought to be built around the nucleus of this fine team. Furthermore, the Warriors' triumph is a vindication of the coaching of Gregor Townsend. Not content with being an inspirational player for his country, GT looks well set to become a great national coach in the near future, as he earns his spurs with the Warriors. Meanwhile, his opposite number, so to speak, Anthony Foley has certainly not disgraced himself in his first year in charge of his beloved Munster. However, he knows that expectations are frequently high amongst the province's followers, and that they won't tolerate an empty trophy room for too much longer.
Well that just about wraps up the domestic review for the year. It's a pity perhaps that the winners of the English league, Saracens, and Glasgow are not furnished with a season-ending British and Irish finale, but I guess that there is enough fixture congestion as it is for the various tired troops.
FINAL RESULT: Glasgow Warriors 31 MUNSTER 13
Glasgow try-scorers: Harley; Van der Merwe; Pyrgos; Russell
MUNSTER try-scorer: Smith
FINAL LEAGUE STANDINGS (all played twenty-two):
Glasgow – 75 points (won sixteen, drew one, nine bonus points)
Justice was done as the fast-improving Glasgow not only finished top of the league but then convincingly won the play-off final.
MUNSTER – 75 points (won fifteen, drew two, eleven bonus points)
Munster atoned for their awful European campaign by reaching the final of the PRO12, but they did not come close to winning the top prize against Glasgow.
Ospreys – 74 points (won sixteen, drew one, eight bonus points)
They were the surprise package who led the charge in the early weeks of the league. Only a narrow defeat to Munster denied them a place in the final.
ULSTER – 69 points (won fourteen, drew two, nine bonus points)
Ulster gave Glasgow much more of a game in the Pro12 semi final and could easily have reached the final. Their early season was blighted by lots of injuries.
LEINSTER – 62 points (won eleven, drew three, twelve bonus points)
Coping with life after O'Driscoll, Leinster are 'in transition'. This mitigating circumstance however did not prevent their coach from exiting the club in recent days.
Scarlets  – 57 points (won eleven, drew three, seven bonus points)
Scarlets did eventually haul themselves up to sixth, but they won't be satisfied to be playing second fiddle to the Ospreys.
CONNACHT – 50 points (won ten, drew one, eight bonus points)
Connacht made a good fist of the league, but their season petered out in the final weeks. They also did well to reach the last eight in the European Challenge Cup.
Edinburgh – 48 points (won ten, drew one, six bonus points)
Edinburgh need to improve vastly next season. They were well and truly eclipsed by their neighbours of Glasgow.
Dragons – 42 points (won eight, ten bonus points)
This was a disappointing season for the Dragons. The only way is up next year.
Blues – 35 points (won seven, drew one, five bonus points)
This was a dreadful campaign for the Blues. A drastic improvement will be called for next season.
Treviso – 19 points (won three, drew one, five bonus points)
Zebre – 15 points (won three, three bonus points)
The two Italian teams remain the league's punchbag. They did achieve the occasional win, but by and large they are regrettably makeweights in this competition.