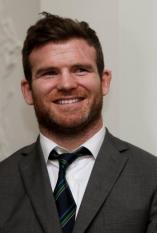 D'Arcy Misses Out Too
Somebody was inevitably going to be cast aside like the proverbial jilted bride, and adding insult to a season of injury, that somebody proved to be Andrew Trimble. By his own admission, Joe Schmidt conceded that he had agonised for several hours on Sunday about whether or not it would be possible to accommodate the Ulster winger in his World Cup 31, but in the end Andrew had to make way for colleagues whose versatility at covering all back five positions rendered them marginally more valuable than the Coleraine man.
Consequently Earls and Fitzgerald were preferred because they could conceivably fill any vacancy behind the half backs. This meant that specialists such as Felix Jones and Andy Trimble were nudged out of the picture. Nobody envies Schmidt his difficult decision-making, and given the fact that Trimble has had precious little game time this calendar year means that it is perfectly understandable that the likes of Tommy Bowe and Dave Kearney were regarded as less of a risk factor. Admittedly Cian Healy has been granted the benefit of the doubt, but even allowing for his lengthy injury, the front row reinforcements are thin on the ground, therefore obliging Mr Schmidt to take a punt on a possible recovery by Healy just in time for the start of hostilities later in September. Meanwhile Ian Madigan's own flexibility in terms of roles within the team also counted in his favour and thereby contributed to the elimination of Boss and Marmion as substitute scrum halves. Hard cheese is also dished out to Jack Conan, Craig Gilroy, and Noel Reid, but this trio can still be central to our World Cup challenge in 2019.
Commiserations are also extended to the ball-carrying Dave Kilcoyne who could easily have been a very good impact substitute. Elsewhere, Fergus McFadden appears to be unlikely to add to his international caps any time soon, while the exclusion of the ever-willing Gordon D'Arcy has clearly brought the curtains down on his illustrious Ireland career. In the end, Joe Schmidt opted for the following World Cup 31, which contains seven Ulster players and two Connacht representatives, in addition to the generous allocation of Leinster and Munster personnel. Let us hope that Joe's tough calls are vindicated.
BACKS
R.Kearney
Bowe
Cave
Earls
Fitzgerald
Henshaw
Jackson
D. Kearney
Madigan
Murray
Payne
Reddan
Sexton
Zebo
FORWARDS
Best
Cronin
Furlong
Healy
Heaslip
Henderson
Henry
McGrath
Murphy
O'Brien
O'Connell (captain)
O'Mahony
Ross
Ryan
Strauss
Toner
White