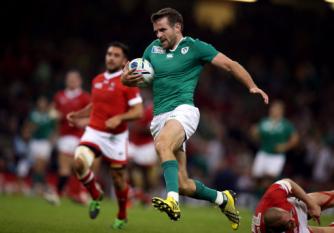 Payne scores
The men in green may have had four warm-up matches under their belt, but such was the revolving door of personnel during those occasions, that many of them could have been expected to still be rusty in terms of game time. However, the performance against Canada possibly exceeded all expectations, and if the Oirish had been offered a seven-one try demolition, resulting in a fifty points to seven scoreline beforehand, I am sure that they would have gratefully accepted. Of course, Canada are effectively from the second tier of international rugby, but they could have contributed to a close score if the favourites had allowed them.
In the event, Conor Murray made an enterprising dart down the blindside (more of the same please!), and this set the train in motion for a highly satisfactory display, not least from our half backs. To state that Murray and Sexton are pivotal to our World Cup chances would be no exaggeration. Happily, on a day when their pack were in the ascendancy, M&S were able to play with much confidence and bring out the best in their colleagues. Excepting one kick out on the full and a missed conversion, Jonny produced a near immaculate performance. Murray played with much authority. The three quarters were able to let their hair down and run in a few tries, with the Kearney household celebrating a try each for the two brothers. Dave had the confidence to come inside and head for the try line, even when the safer option would have been to pass. Similarly, Sexton demonstrated his growing confidence when he accelerated towards the try line, when lesser mortals may have looked for support inside.
Meanwhile, O'Mahony proved a brilliant outlet at the line outs, Best and O'Connell were as energetic as ever, while Henderson and O'Brien reminded us of their ability to take the ball forward, whilst absorbing tackles. Each of the latter two ball-carriers was rewarded with a try from close quarters. Their knack of taking the ball that extra couple of yards whilst we lay siege to an opposition's try line may prove invaluable.
My only complaint is that we still have this foolish desire to kick a pass out to the wing. This is a tactic which paid off when O'Gara would kick the ball out to the giant Horgan. Similarly, it occasionally worked when Sexton kicked the ball out to tall Tommy Bowe. However, Earls and Kearney are not tall – in rugby terms, and launching a fancy kick out to the wings looks like an act of desperation. It speaks of a team trying this last resort, because they have run out of ball in hand ideas. However, on Saturday past, we ran in seven tries, none of which resulted from a kick to the wing, while our silly kicks out to the winger yielded us nothing. There must be a lesson to be learnt from those naked facts. A maximum of one kick to the wing in each half, thinks me, is more than adequate. Otherwise, we run the risk of cheaply losing possession and possibly gifting the opposition an interception try. We proved how capable we are when we go through lots of phases and keep the ball in hand, albeit against a weak defence. Incidentally, our passing was crisp and our running was good. Even Fitzgerald and Earls justified their places, in spite of failing to cross the try line.
The bottom line is that this match ticked two main boxes – a win and a win with a bonus point. This was the minimum requirement. Later in the evening, France easily overcame Italy, although neither team were able to obtain a bonus point. Next on the timetable is a skirmish against Romania in London on Sunday afternoon. A repeat performance and score would do just fine.
[The author can be stalked at http://ireland.rugbynetwork.net]