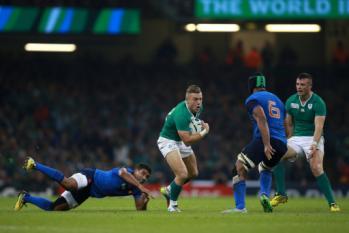 Now that dear, deluded England, is how you win a tough World Cup match. In spite of losing three key players to injury, Ireland still prevailed against a tough-tackling France that offered surprisingly little in attack.
I have always been irritated by media coverage of rugby union, especially in the UK, where broadcasters who clearly know little about rugby will focus on a few individuals in each team, and completely overlook the rest of the team. The English media muppets for years devoted their spotlight on Jonny Wilkinson, as if England's chances began and ended with the great JW. I always thought that this was a bit insulting to such greats as Dallaglio and Johnson, and the rest of the team. Ireland have for years encountered the same tunnel vision approach from the broadcasting berks who like to foster the cult of the celebrity by singling out one or two individuals as the team's 'superstar'. There was a perception that without Brian O'Driscoll, Ireland would evaporate – a theory well and truly demolished by our success at the 2015 Six Nations. Now that O'Driscoll has left the stage, a media search began for new heroes to focus upon. As a consequence, Jonny Sexton is held up as absolutely crucial to Ireland's cause. Similarly, big Paul O'Connell has also been singled out as indispensable.
Well yesterday, a depleted Ireland team had to make do in the absence of the seemingly irreplaceable duo of O'Connell and Sexton, as well as manage without the important contribution of Peter O'Mahony. The roof at the Millenium Stadium did not cave in, and Ireland, shorn of their apparently best players, still succeeded in comfortably conquering the French. So much for those misinformed people who think that Ireland is lost without its two or three talismen. The team's majestic performance in which they bossed the contest, with most possession and most of the attacking, and not surprisingly the fixture's only two tries, all served to remind the slow learners that Ireland have an excellent squad, that they clearly possess strength in depth, and that they literally have all bases covered.
It came as no surprise to me that big Iain Henderson proved to be a more than capable replacement for the veteran O'Connell. By the same token, another substitute called Ian, young Mr Madigan, played with much authority and confidence, again destroying the nonsense that Ireland cannot function effectively without Jonny Sexton. Chris Henry was also a very good fresh pair of legs to have waiting in the wings, if any of our back row forwards should have to vacate the field, and so it proved. Elsewhere, Toner was a revelation. Bowe looked back to his best, and O'Brien was a man possessed. Unfortunately, he is occasionally possessed with a demon that prompts him to give away penalties or to throw his fist into an opponent's midriff.
Of course, Ireland would prefer to have their first-choice team available at the business end of the 2015 World Cup, but as an inspired Wales are showing, it is still possible to thrive with a squad missing several first picks. In fact, with a number of players having to leave the stage due to injury, it is almost a case of the last man (or to be precise the last team) standing that will emerge as world champions on Hallowe'en. Indeed Denis Hickie wisely observed that rugby union in its current format is almost becoming unsustainable, as far too many players are being lost to injury, leaving us with under-strength teams to wage rugby war on one another. With every passing skirmish, one or two more players are joining the casualty list and having to pack their bags and exit the planet's biggest rugby tournament. This is not just unfortunate, but also diminishes the event, when the likes of Halfpenny or Woodcock or Lawes or O'Connell are ruled out of various matches. The rugby-watching public are being robbed of the chances to watch the very best players, and the sheer physicality of rugby union nowadays is its own undoing, in some respects.
Anyhow, Ireland, having been sheltered from the catalogue of injuries that Wales have incurred, have now lost Jared Payne and Peter O'Mahony, while the enforced absence of Paul O'Connell seems more than likely. Nevertheless, the men in green will advance to their Sunday afternoon showdown at the same fateful venue against Argentina as favourites to progress to their first-ever World Cup semi finals. However, Argentina will be no pushovers. They now compete regularly each year against Australia, New Zealand, and South Africa, and this experience in the school of hard knocks has only served to educate the Argentinians and provide them with the kind of test-match know-how that they lacked in the past, when they were merely regarded as something of a rugby union novelty nation. Now Argentina are as much a rugby union superpower as they are in soccer. They reached a World Cup semi final in 2007, and Ireland have twice lost to them in the event, so Rory Best's promise that the Irish will be taking the Pumas very seriously is wise words indeed.
Ultimately, Ireland might never have a better chance of reaching the last four (and final), and I am confident that our reinforcements are of a sufficient quality that in the absence of a few important individuals, the team is more than good enough to repeat the heroics of yesterday in Cardiff. With our old achilles heel of the scrum actually exceeding expectations, we made a good team like France look very ordinary and we need to do likewise against a dangerous Argentina.