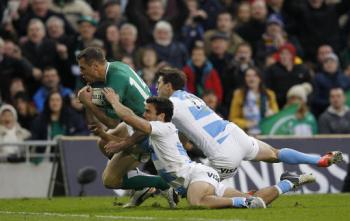 It is interesting to note that although Argentina lead Ireland two-one in World Cup encounters, the Pumas have not defeated the Irish in over eight years, when their best-ever team reached the semi finals of the Rugby World Cup in 2007. In fact, Ireland have won the last five encounters, at home and abroad. As a consequence Argentina trail in the head-to-head contests ten-five, with eight of the fifteen fixtures producing a winning margin of less than ten points. There were also five matches that took place between 1952 and 1973, but the IRFU refused to award caps for these 'internationals'. Those five semi-full internationals resulted in perfect parity: two wins each and one draw. The Ireland home matches took place at Lansdowne Road, unless otherwise stated.
27th of October 1990: IRELAND 20 Argentina 18
Michael Kiernan kicked four penalties and recorded a try. The other try was scored by Kenny Hooks. The visitors had led 9 points to 7 at the halfway stage.
28th of August 1999: IRELAND 32 Argentina 24
Winger Matt Mostyn scored a hat trick of tries in this World Cup warm-up. The Pumas managed three tries of their own in this seven-try 'friendly'.
20th of October 1999: Argentina 28 IRELAND 24; in Lens; Rugby World Cup
David Humphreys kicked seven penalties and a drop goal, but a late converted try by Albanese overturned a 24-18 lead. Quesada kicked 23 crucial points.
3rd of June 2000: Argentina 34 IRELAND 23; in Buenos Aires
Bishop, Henderson, and O'Kelly recorded tries, while Humphreys kicked eight points. However, Quesada kicked nineteen points for the home team.
23rd of November 2002: IRELAND 16 Argentina 7
Both teams managed one converted try apiece, but the difference between them was three penalties from O'Gara. Ireland had only led 10-7 at half time.
26th of October 2003: Argentina 15 IRELAND 16; in Adelaide; Rugby World Cup
Flanker Alan Quinlan scored the only try of this nail-biting contest. Ireland led 10-9 at the interval. O'Gara added two second-half penalties for a narrow win.
27th of November 2004: IRELAND 21 Argentina 19
The hosts recovered from a 16-6 interval deficit, as O'Gara kicked five penalties and two drop goals. Felipe Contepomi kicked fourteen points for the Pumas.
26th of May 2007: Argentina 22 IRELAND 20; in Santa Fe
The visitors benefited from a penalty try and a try for winger Brian Carney, but the hosts had Felipe Contepomi to thank, after he kicked seventeen points.
2nd of June 2007: Argentina 16 IRELAND 0; in Buenos Aires
Manuel Contepomi recorded the match's only try. Federico Todeschini converted the try and kicked three penalties, in front of forty thousand spectators.
30th of September 2007: Argentina 30 IRELAND 15; in Paris; Rugby World Cup
Both teams shared four tries, but the Argentinians again knocked the Irish out of the World Cup, helped by three drop goals from Juan Martin Hernandez.
22nd of November 2008: IRELAND 17 Argentina 3; at Croke Park, Dublin
Ireland needed to win this to preserve their top eight status ahead of the World Cup draw.  A late Tommy Bowe try confirmed a comfortable home victory.
28th of November 2010: IRELAND 29 Argentina 9; at the Aviva Stadium, Dublin
Felipe Contepomi's trio of penalties were no answer to a rampant home team. Ferris and D'Arcy scored tries while Jonny Sexton kicked seventeen points.
24th of November 2012: IRELAND 46 Argentina 24; at the Aviva Stadium, Dublin
The hosts amassed seven tries, while two late tries for the Pumas saved them from a 46-12 drubbing. Bowe and Sexton recorded two tries each.
7th of June 2014: Argentina 17 IRELAND 29; in Resistencia
The visitors scored the hosts by three tries to two and four penalties to one. The Irish try-scorers were Chris Henry, Jonny Sexton, and Andrew Trimble.
14th of June 2014: Argentina 17 IRELAND 23; in Tucuman
Both countries shared four converted tries. The difference was a tally of three penalties to one. Zebo and Madigan recorded second-half tries for the Irish.