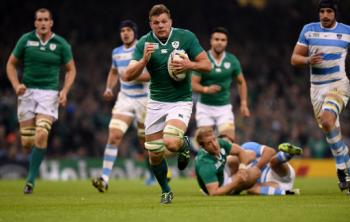 The Pumas outscored Ireland by four converted tries to two and five penalties to two, finishing with more than double the points of their vanquished foe. This clearly underlines their superiority, although the match did ebb and flow from one direction to the other. First the Argentinians hit the ground running in the first quarter, establishing a near-impregnable position, courtesy of two early tries, and a penalty from the lethal Nicolas Sanchez. Then the men in green awoke from their slumber and rallied either side of half time to find themselves only three points in arrears. However, just when the momentum was apparently with the Oirish, their challenge wilted and the South Americans finished the proceedings with another hatful of points.
The national team have never won a knockout match in the Rugby World Cup, and injuries to key personnel notwithstanding, this Cardiff contest represented the best chance ever for the Oirish to reach the last four and justify their IRB world ranking of three. However, the tussle was further evidence of how misleading world rankings are, as the likes of Ireland and the other home nations have a tendency to defeat southern hemisphere teams during autumn internationals when there is little at stake, except temporary bragging rights, thereby elevating their status in world rugby to an unrealistic ranking. However, when push comes to shove, in the biggest tournament of all, the southern hemisphere teams go up a level, not always seen during the autumn internationals, and the home unions have no response.
Yes Ireland could point to the missing players who could have been very influential, but it is futile making excuses. Argentina are now well schooled in their regular skirmishes with the southern hemisphere giants, and accordingly they have become extremely streetwise. They will be worthy semi-final opponents of the Aussies, and a defeat of the Wallabies next Sunday would be no shock.
Elsewhere, New Zealand trounced France. To think that some English pundits (and supporters too, now in denial) thought that England might be able to challenge the All Blacks for world supremacy. That team on Saturday night were light years ahead of any of the European nations. Only a British Lions selection might compete with the southern hemisphere's finest at present, and even this is debatable. Wales and Scotland were gallant losers, and were within a few minutes and one score of ultimate victory, but hard luck stories are all they have to cling on to. If you play well enough, you can win convincingly and therefore take the referee's decisions out of the equation.
What now for Ireland? Well, the evidence seems to suggest that they are in their element in the annual Six Nations shindig, but glory in Europe's premier competition is clearly not a precursor to world domination. The events of September and October are a reminder that greatness in Europe is all well and good but of limited significance, while autumn internationals are overstated as a barometer of progress. Until the Emerald Isle cracks the code to the safe, they will remain also-rans on the biggest stage of all.
There is unlikely to be any post-World Cup clearance of the playing staff. Ross won't play at the next World Cup and neither will Best, but the latter is still in fine fettle, and one of the best players in the pack. He seems to be good for another couple of years. Furthermore, Murphy is not an adequate replacement at flanker. It remains to be seen whether Sexton, at 34 years of age, can feature at the next global rugby circus, while Bowe, Earls, Heaslip, and Rob Kearney may also have played their last World Cup fixtures.
Rob has been one of Ireland's standout performers over the last decade. However, he is more guilty than anyone of the tiresome tactic of launching high balls into the air, not least because he is an expert at catching them. However, it is time that Ireland ditched their Garryowens. They might be a crowd-pleaser, but they are not especially effective. How many tries have Ireland (or any of the other nations) scored in recent times from a Garryowen? Instead, resorting to this tactic sends out the message that the team in possession have no confidence in their ability to penetrate enemy lines with ball in hand, and instead of backing themselves to advance with ball in hand, they must fire a lottery kick up into the sky in the vain hope that it will create turmoil amongst the opposition. However, a Garryowen is just as liable to be a fertile means of producing a deadly counter-attack and is frequently a cheap means of conceding possession.
In the last analysis, the losers in Europe can and will only make progress if they pay close attention to the performances and strategies of their conquerors. I don't notice the Kiwis desperately launching kicks into the air. Until Ireland and the rest of Europe take a leaf or two out of the southern hemisphere manuals, they will continue to be also-rans on the world stage, even though a whole array of English and Welsh pundits believe their own foolish hype.