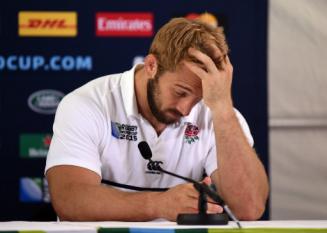 Greetings pop pickers, would you Adam and Eve it, but England, surprise surprise, have been installed as favourites to win the forthcoming Six Nations tournament? We are told that England rugby is in turmoil after the national team's embarrassing early exit from the Rugby World Cup, held in her own backyard. Yet, for all the humiliation, it seems that the default setting of the English bookmakers each year is to insert England as pre-tournament favourites. How laughable and tedious. No wonder the other home unions are so motivated to take the big bearded public schoolboys of Blighty down a peg or two!
So what exactly constitutes England's pre-Six Nations favourites' tag? Is it England's loftier position in the world rankings? No. Wales and Ireland are currently placed higher. Secondly, is it England's stellar progress at the 2015 Rugby World Cup, played largely in England, while all the other five nations floundered? No. Quite the opposite. Only Italy, alongside John Bull, failed to reach the last eight, while Scotland and Wales were within one score and a few minutes of a semi-final place.
So England's favourites' tag isn't due to superior performances in the World Cup, with home advantage, nor higher IRB rankings? Oh I know. It must be a better track record in recent Six Nations, mustn't it? Oh no, England have not enjoyed a clean sweep since 2003, since when Ireland and Wales have accumulated four grand slams between them. Even France have helped themselves to deux grand chelems in the last dozen years. In fact, over the course of the last dozen years, England have won the Championship once only, Ireland three times, and France and Wales have been champions four times each.
What then prompts the bookmakers, English of course, to tailor their odds to instal England as favourites? Self-delusion is the only possible answer. Consider the following nonsense, quoted at the time of writing:
BETTING ODDS FOR SIX NATIONS OUTRIGHT WINNERS
England 15-8 with Bet365 and Sporting Bet; 13-8 with 888Sport; 7-4 with BetFred, BetVictor, StanJames, BetFair, and Bwin; 8-5 with 10Bet; 2-1 elsewhere
Ireland 5-2 with Bet365, SkyBet, StanJames, Ladbrokes, William Hill, Betfair, and Bwin; 11-4 with BetVictor and Coral; 9-4 with BetFred and Totesport
*Wales ranging from 11-4 to 7-2 with all bookmakers
France ranging from 7-2 to 11-2 with all bookmakers
Scotland ranging from 10-1 to 20-1 with all bookmakers
Italy ranging from 250-1 to 750-1 with all bookmakers
*Of course Wales's chances are severely handicapped by having to visit Twickenham where England enjoy home advantage. Now where have we heard that misguided analysis before?!