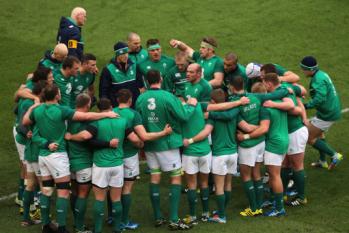 For the second week in succession Jonny Sexton kicked three penalties and for the second consecutive match, Ireland led at the interval but again failed to hold on to their lead in the second half. One crucial difference from the previous outing is that the Oirish failed to muster a single try in soggy Paris, and although the hosts left it late before finally getting their noses in front, they did achieve the only try, courtesy of the elusive Maxime Medard, and for this reason alone, they probably just about deserved to shade this underwhelming occasion.
The Oirish actually dominated the first fifty-five minutes of the proceedings, but the French were defensively solid and the Irish, missing O'Driscoll, lacked inspiration and guile. Nine points was a paltry return for their ascendancy. Nevertheless, a six-point interval advantage was a fair reflection on the skirmish. However, what was ultimately the visitors' undoing was a bewildering strategy of trying to keep ball in hand and play possession rugby in wet conditions when handling was perilous. Ironically, when conditions are good for running rugby, the men in green are liable to kick the ball long. Yet when the weather seemed to point towards an opportunity to deploy such tactics, Sexton and Murray rarely turned the French around with kicks or kicked for the corner. Instead we battered at the French ramparts for an hour, but all to no avail. It is annoying to return to the old practice of losing a close match against les Francais, not least because this French team are still in transition and are not a patch on their great teams of yesteryear. They were there for the taking, but Ireland just did not possess the killer instinct.
In fact nothing summed up Ireland's feeble attempts more than an awful kick out on the full by Ian Madigan at the restart following their try. We might have reasonably expected to lay siege to them in the closing ten minutes, but any such possibility was ceded by this schoolboy error. As a consequence, the French simply scrummaged their way back into our territory, eating up a valuable five minutes.
Of course Ireland's cause is not being helped by a growing casualty list, now augmented by sicknote O'Brien and Dave Kearney. 2016, I'm afraid, has all the hallmarks of an ill-fated campaign in which the coach has to cobble together fifteen fit and able players. At least his selection meetings shouldn't last long once the stricken have been stricken off the team sheet.
Our next outing is away to Twickers. It is almost certainly a case of playing for pride now. The English/British media will be presenting England as nailed-on certainties, such is their customary hype. England are good and have lots of potential. However, lesser Irish teams than this one have gone to south-west London and produced a successful raid. The class of 2016 can do likewise, but they will need a try or two. Nine points just isn't going to win too many matches and certainly not an encounter at the lair of John Bull.