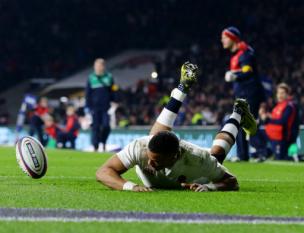 If one was to deduct the number of players on each team who are not native-born, you could nearly have ended up with a soccer match instead, but all facetiousness aside, England had the edge in this encounter and deservedly won. However, although they scored twice as many points and twice as many tries, the eleven-point margin was a bit flattering. A five or six point deficit would have been more realistic. Eddie Jones correctly stated that his team left about fifteen points out there, but surely he is not blind to the fact that Ireland too had quite a few close calls when they reached John Bull's line.
In the event, the video referee was kept spectacularly busy as time and again England in the first half and Ireland after the interval were frustratingly held up millimetres short of a touchdown.
Ironically, England helped themselves to two tries in quick succession at a time when Ireland had upped their game in the second half. Yet in the first forty minutes, when the hosts laid siege to the Irish twenty-two, the visitors just about repelled each advance towards their line – but only just. Having absorbed way too much English pressure in the first forty, the away team simply had to offer more in the second forty, and although they started brightly and got their noses in front with another trademark Murray try from ten yards out, the momentum was not sustained, and the chastened home team simply made their few incursions into Irish territory in the second half pay off. In fact, England were far more clinical in the second period, after a series of wasted opportunities in the first half. Now the (rugby) boot was on the other foot. The Irish applied the pressure after falling eleven points behind, but Henshaw and Van Der Flier were narrowly short of securing a much-needed five points.
Although Ireland can make excuses about a host of absentees, notably Bowe, Henderson, O'Brien, O'Mahony, McCarthy, and Dave Kearney, they only have themselves to blame. There are still far too many handling errors, with Sexton and the mediocre Trimble obvious culprits. Sexton was his erratic best. He made two or three great line breaks. He and Murray remain a formidable partnership, although Murray's high passes that frequently involve a colleague having to pluck the ball from above his head are another weakness. I guess that we have to accept that our half backs are brilliant and flawed in almost equal measure.
Elsewhere, our line-out was a shambles, especially when we kicked penalty chances into touch and then deep in enemy territory we failed to secure our own line-out throw. The new captain has to take his share of the responsibility for this failing. Big Toner also cannot carry the ball forward for love nor money. His big basketball player frame means that he has no low level of gravity to withstand opposition tackles. Jack McGrath is the opposite. His ball-carrying attempts were scarcely any better, as he went to ground too easily, leaning well forward like lazy props do and his failure to stay upright in the tackle meant that he and the ball were going to ground way too often, with no offloads and no opportunity for the ball to be kept alive but instead recycled slowly at a subsequent ruck.
Young McCloskey started sluggishly but grew into the game and was spectacularly good at the start of the second half. His removal was all the more surprising. Meanwhile, it was Henshaw who was the pick of our under-achieving bunch. Neither he nor the quicksilver Earls deserved to be on the losing team. The same could not be said of Trimble, who failed to make any line breaks and one moment of butter fingers summed up his hapless performance. Surely Earls and either Zebo or Gilroy should be allocated the wing berths in the next outing. The other debutant Van Der Flier had a baptism of fire at Twickers. He did little wrong, but he did little right either. Is he better than O'Donnell or Ruddock or Henry? I saw little compelling evidence that he was.
The Leinster senior citizens, Heaslip and Kearney were once again both solid but neither again were spectacular. Their best rugby days are long since gone now. However, there is little point in replacing them, if the potential successor isn't quite ready to step up to the vacancy.
The bottom line is that Ireland have scored nine points away to France and ten away to England. They won't win many (if any) internationals with this points haul. It was abundantly obvious that the team knew that a few successful penalties would be insufficient which is why they spurned penalty kicks at goal, instead preferring to kick for touch deep in the opposition twenty-two. This is a noble strategy, but if you don't then win the ensuing line out, then this bold policy counts for very little – a bit like Ireland's overall efforts.