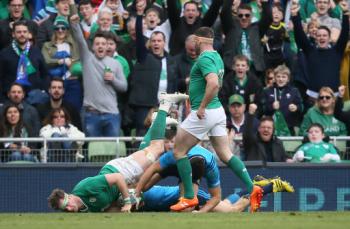 For the previous three outings, the reigning European champions of Ireland had struggled both to put sufficient points on the scoreboard and principally to score many tries. As a consequence the Irish were left with a solitary point to show for their half-baked efforts. However against a very obliging Italy and in good conditions ideal for running rugby, the Oirish laid to rest their recent frustrations, at least for the afternoon, and slaughtered a hapless Italia to the tune of nine tries to two.
Jamie Heaslip who now specialises in solid performances, as opposed to spectacular ones, was chief beneficiary of Italian generosity, as he was the right man in the right place for two very different touchdowns. The first, on the stroke of half time, is a clear frontrunner for try of the tournament, with big Jamie rounding off a Barbarians-like move that originated on the hosts' twenty-two line. Jonny Sexton, who else, launched the attack, and although there were worthwhile contributions from Henshaw, Payne, Trimble, and finally McFadden, it was Zebo's one-handed offload which was worth the admission price alone. The admirable Donnacha Ryan may have been nominated as ITV's man of the match, but from where I was sitting, it was Ryan's Munster colleague, the mercurial Zebo who had the greatest impact upon the proceedings. Although he tried time and again to achieve a line break, almost becoming a bit too predictable in the process, it was nevertheless Simon's injection of pace which was a real shot in the arm for a back division that had laboured of late. The conservative Schmidt might be inclined to reinstate Rob Kearney when he recovers his fitness, but there is a compelling case for persevering with Zebo at full back.
Elsewhere, CJ Stander looked the part as a blindside flanker and may take some shifting from the team. He certainly couldn't be cast aside when he barged over for his first international try, quite possibly the first of many. Big Devon Toner totally dominated the line outs, while the returning Payne proved a real pain for the away team, even helping himself to an interception try. Finally, a round of applause is allocated to the Leinster try-scoring quartet of McGrath and the replacements Cronin, Madigan, and McFadden, not forgetting Andrew Trimble who began the tries avalanche by having the presence of mind to pop up on the left wing to convert our first opening.
This proved indeed to be an occasion when the home team could fill their boots, but the prospect of tackling a resurgent Scotland next Saturday will be considerably more challenging. Admittedly the Scots have one less day to prepare and their recent record against Ireland is pitiful, but Ireland's Six Nations end of term report hinges on our fixture against Scotland. A win could easily mean a final position of third, which would be respectable and satisfactory. Anything less would be perceived as a major step back, even allowing for the plethora of unavailable personnel. One thing is for sure. Scotland won't capitulate quite so readily as the punch bags of Italia did