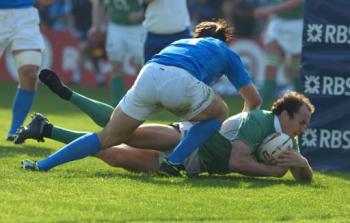 Ireland have actually played only a handful of matches on March the seventeenth, even though the Five Nations/Six Nations has traditionally been held in the early months of each year. Here below are the few occasions when the Oirish rugby warriors were required to compete on their national saint's day.
2012: England 30 IRELAND 9. England scrummaged the visitors off the park and profited most from the wet conditions. Farrell kicked six penalties and a conversion.
2007: Italy 24 IRELAND 51. Two late Italian tries ruined Ireland's hopes of winning the championship, after the Irish had helped themselves to eight tries of their own.
2001: Ireland's home fixture against England was postponed because of foot and mouth disease. The re-arrangement effectively cost a red-hot England a grand slam.
1990: Once again St Paddy's day jinxed an Ireland fixture, as their home match against Wales was postponed. Scotland claimed a second grand slam on this date!
1984: Two matches took place on this day, but Ireland sat it out, while Scotland won a rare grand slam, defeating France 21-12 at Murrayfield.
1979: Ireland again were scheduled to take the day off while the other four teams did battle with each other. Wales trounced England to clinch another triple crown.
1962: Wales were due to host Ireland on this date, but the occasion was cancelled, owing to an outbreak of smallpox in South Wales.
1900: IRELAND 0 Wales 3. George Davies of Swansea scored the only try of the match at Balmoral, Belfast to seal a triple crown, and leave the hosts whitewashed.