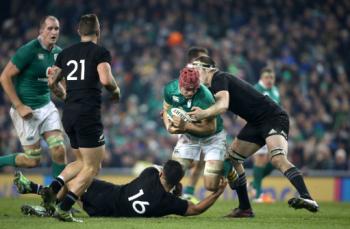 The 'underdogs', according to their coach Steve Hansen, prevailed on Saturday past in a peculiar but compelling encounter. Ireland battered the mighty All Blacks like never before, enjoying a remarkably large lion share of possession and territory, but try as they might, they could not blow the New Zealand house down.
Instead, the world champions dished out a dose of our own medicine. How? Well, on many occasions in the past, the Oirish have absorbed much pressure at one end of the pitch and then proceeded to be clinical at the other end. This time, it was New Zealand who tackled like men possessed and then were lethal on the rare occasions when they ventured near the home team's try line.
The final score of 21-9 was harsh on the hosts who did everything but score a try. In fact, in some respects their performance was at least on a par with their heroics in Chicago. For a start, the Irish conceded less points and bossed much of the match. This time however, the away team refused to yield when they were under pressure. The men in green can take great heart from this glorious failure. Young Ringrose gave a good account of himself in this baptism of fire, while another replacement Van der Flier was at the heart of Ireland's forward thrusts. Meanwhile, Furlong had a stormer. If we can lick Australia next Saturday, we can finish the autumn internationals as we began them, with a huge southern hemisphere scalp.